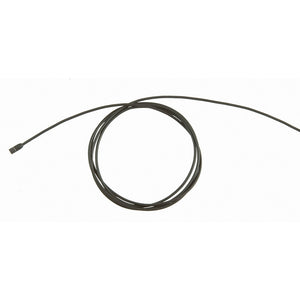 MKE-2-EW-Gold
To see item prices, please log in
---
---
Sennheiser MKE-2-EW-Gold - High-quality, sub-miniature omni-directional clip-on lavalier microphone. For all areas of live work. Fulfills highest demands on sound quality and ruggedness. Sweat protected by special ultralight Umbrella Diaphragm™.
MKE 2-ew-3 Gold black Art. no. 009831
Microphone with Locking 3.5mm Connector
The MKE 2 Gold sub-miniature omni-directional lavalier is ideal for television broadcast and theatrical productions. Its accurate frequency response produces natural, uncolored sound. A unique Umbrella Diaphragm delivers moisture-resistant performance with the identical high audio quality of the industry standard MKE 2 lavalier. Its size makes it not only unobtrusive and easy to conceal, but also offers a textbook perfect omni-directional polar pattern. An extremely thin low mass diaphragm exhibits extraordinary transient response. The microphone also comes with two additional sound inlet caps to tailor the high frequency as needed. Color: matte black.
Dual-diaphragm design virtually eliminates "sweat-outs"

Stranded, stainless-steel reinforced cable provides maximum strength and low contact noise

Acoustical equalization via supplied end caps
SPECIFICATIONS
Transducer principle pre-polarized condensor
microphone
Pick-up pattern omni-directional
Sensitivity (free field, no
load) (1 kHz)
5 mV/Pa, ± 3 dB
Max. SPL at 1 kHz 142 dB
Frequency response 20 to 20.000 Hz ± 3 dB
Equivalent noise level
      A-weighted 26 dB
      CCIR-weighted 39 dB
Connector see product variants
Cable length approx. 1.60 m