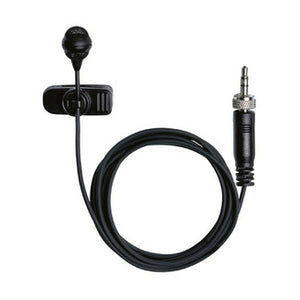 ME-4-N Clip-On Microphone
To see item prices, please log in
---
---
ME-4-N Clip-On Microphone
Small, universal clip-on microphone designed especially
for speech in noisy environments. Its consistent pick-up
pattern (cardioid) ensures high feedback rejection. The
lightweight fastener on this subtly designed microphone
with a matte black surface makes it easy to handle.
Mini jack plug for bodypack transmitters from the ew G3,
ew G4 and XS Wireless series.

PRODUCT VARIANTS
ME 4-N Art. no. 005020

FEATURES
• High speech intelligibility
• High feedback rejection
• Easy attachment on clothing
• Mini jack for bodypack transmitters from evolution
wireless series and XS Wireless

DELIVERY INCLUDES
• ME 4-N clip-on microphone
• clip

SPECIFICATIONS
Transducer principle pre-polarized condensor
microphone
Pick-up pattern cardioid
Sensitivity (free field, no
load) (1 kHz)
40 mV/Pa
Max. SPL at 1 kHz 120 dB
Frequency response 50 to 18,000 Hz
Equivalent noise level
A-weighted (DIN IEC 651)
31 dB
Connector 3.5 mm jack
Cable length approx. 1.60 m
Supply voltage 7.5 V