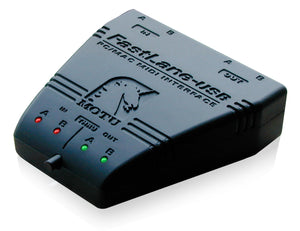 Fastlane USB
To see item prices, please log in
---
---
2-in/2-out USB MIDI interface with MIDI thru.
FastLane is a simple 2 input, 2 output, 32-MIDI channel interface for Mac and Windows. It installs in seconds and opens your computer to a world of music software. FastLane's unique advantage: a MIDI thru button allows you to play to your gear even when your computer is turned off-without having to disconnect cables. No other USB interface offers this feature for this price.
FastLane takes full advantage of USB, giving you increased MIDI throughput, better timing accuracy, support for "hot-swapping" and plug-and-play expansion. Need to connect another sound module or synth? No problem. Just add another FastLane via a standard USB hub.
No power supply or batteries required! Includes USB cable. FastLane is 4 × 3.75 × 1 inches (10.16 × 9.53 × 2.54 cm).